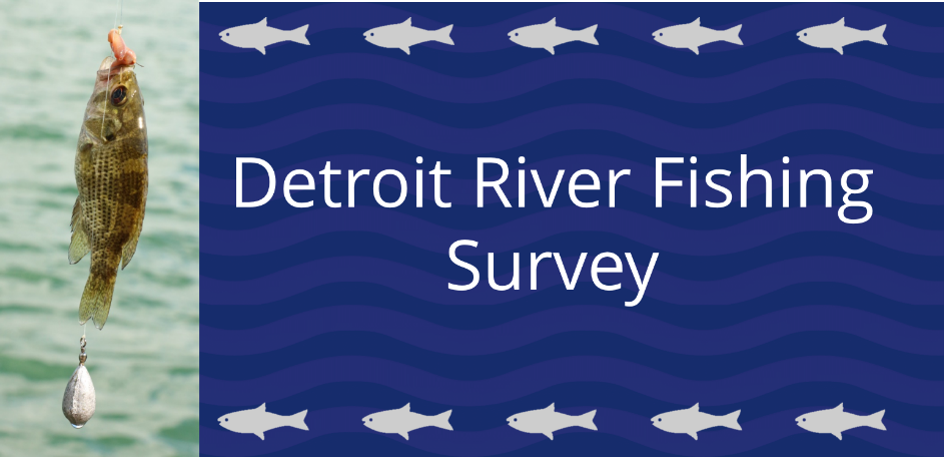 Do you fish the Detroit River? If so, we want to hear from you!
Your input will provide valuable information to the Detroit River Canadian Cleanup (DRCC) staff to help guide future research, education and outreach, monitoring and remediation efforts in the Detroit River watershed. 
This information is being gathered by the Detroit River Remedial Action Plan. The RAP is a partnership between government, industry, scientists, environmental organizations, and dedicated citizens that work together to protect and restore the Detroit River ecosystem. The goal of the DRCC is to remove the Detroit River from the list of Canada-U.S. Great Lakes Areas of Concern.
This survey will take about 10 minutes to complete. The survey is confidential and anonymous, so no one will be able to connect your answers back to your name. We're not interested in knowing if you have a fishing license and will not be asking any questions related to any laws. Survey responses will be summarized in a final report and will not be linked to an individual.
Participants will receive a thank you gift (while supplies last) containing a $5 Tim Horton's gift card. The thank you gift is restricted to residents of Ontario and can be mailed in Ontario. You will be asked for your name and contact information at the end of the survey. Your information will only be used for the gift and will not be linked to your responses. You may opt out of receiving a gift.
If you have any questions about this survey, please contact Jackie at 519-776-5209 x 356 or email postmaster@detroitriver.ca.