February 2, 2018
Media Release
For Immediate Release
Detroit River Canadian Cleanup Celebrates Thirty Years of Progress with New Mapping Tool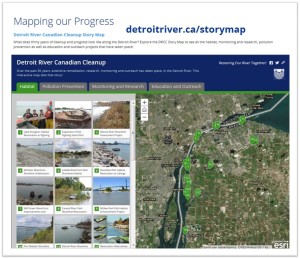 Windsor, ON – A new interactive mapping tool that tells the cleanup story of the Detroit River is now available to explore! Remediation efforts on the Canadian side in the Detroit River include sediment cleanup, habitat restoration, municipal and industrial wastewater treatment infrastructure upgrades, non-point source pollution management as well as a suite of ongoing studies, investigations, monitoring, research, education and outreach. The story map highlights the projects that have taken place over the past thirty since the river was designated as an Area of Concern under the Great Lakes Water Quality Agreement.
"Many organizations, groups and individuals come together under the Detroit River Canadian Cleanup umbrella to work towards ecological recovery," said Claire Sanders, the Remedial Action Plan Coordinator. "And after 30 years of work together, we are seeing the fruits of our labour – the Detroit River is improving. This story map tool will grow as we continue to implement more projects and research as we work towards removing the Detroit River from the list of Areas of Concern."
To explore the Detroit River Canadian Cleanup's Story Map visit www.detroitriver.ca/storymap. 
The Detroit River Canadian Cleanup implements the Remedial Action Plan on behalf of a community-based partnership working together to protect, restore and enhance the Detroit River ecosystem.
-30-
Digital Photo attached:  Screenshot of DRCC Story Map
Media Contact:       
Claire Sanders
Remedial Action Plan Coordinator
Detroit River Canadian Cleanup
311-360 Fairview Avenue West
Essex ON  N8M 1Y6
Phone: 519-776-5209 x356
Alternate Phone: 519-982-3722 (DRCC)