Beneficial Use Impairments in the Detroit River Area of Concern
A beneficial use is defined as the ability of living organisms (including humans) to use the Great Lakes Basin Ecosystem without adverse consequences. A Beneficial Use Impairment (BUI) is a condition that interferes with the enjoyment of a water use.
The Canada-United States Great Lakes Water Quality Agreement (GLWQA) identifies 14 beneficial uses that must be restored in order to remove the designation as an Area of Concern (AOC). Each BUI has a set of locally-defined delisting criteria that are specific, measurable, achievable, and scientifically-defensible. The table below lists all 14 possible impairments identified by the GLWQA as well as their most recent status for the Detroit River Canadian AOC.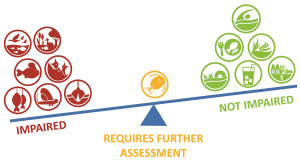 BENEFICIAL USE IMPAIRMENTS

STATUS
 

#1 Restrictions on Fish and Wildlife Consumption

..will be considered not impaired when consumption advisories for indicator fish species (e.g., walleye, brown bullhead, and smallmouth bass) given for the sensitive population in the AOC are similar to upstream and downstream non-AOC Great Lakes reference areas.

Impaired for fish

#2 Tainting of Fish and Wildlife Flavour

..will be considered not impaired when survey results confirm that there is no statistically significant tainting of fish flavor when compared to fish from upstream of the Detroit River.

Not impaired
(May 2014)

 #3 Degraded Fish and Wildlife Populations

..will be considered not impaired when environmental conditions support self-sustaining and healthy communities of indicator fish (e.g., walleye, bass, lake sturgeon, brown bullhead) and wildlife (e.g., black-crowned night heron, Northern leopard frog) species.

Impaired

 #4 Fish Tumours and other Deformities

..will be considered not impaired when incidence rates of liver tumours in brown bullhead (aged 3-5 years) are not statistically different than the Great Lakes background rate (2%).

Impaired

#5 Bird or Animal Deformities or Other Reproductive Problems

..will be considered not impaired when incidence rates of bird and animal reproductive problems in sentinel wildlife species do not exceed background levels at suitable reference sites elsewhere in the Great Lakes basin or suitable inland control populations for a minimum of three years; AND

…when scientifically defensible wildlife bioassays of indicator species confirm that there are no reproductive problem and no significant toxicity from the water column or sediment contaminants or bioaccumulation.

Impaired

#6 Degradation of Benthos

..will be considered not impaired when the benthic community composition is temporally and spatially identified as non-impaired based on an objective and quantitative community analysis and/or a comparison to appropriate reference sites within the river; AND

…when benthic organisms analyzed for persistent, bioaccumulative substances (e.g., PCBs and mercury) are below thresholds required to protect fish and wildlife.

Impaired

#7 Restrictions on Dredging Activities

..will be considered not impaired when there are no limitations on the disposal of sediments removed for routine navigational dredging.

Impaired

#8 Eutrophication or Undesirable Algae

…will be considered not impaired when the nutrient status of the waters of the Detroit River will support the establishment of mesotrophic conditions in the Western Basin of Lake Erie, and the shoreline of the river will support minimal grown of attached algae (e.g., Cladophora).

Not impaired (2010)

#9 Restrictions on Drinking Water Consumption or Taste and Odour Problems

… will be considered not impaired when treatment (i.e., settling, coagulation, disinfection) required to bring raw river water to a quality that will meet provincial drinking water standards does not exceed the standard treatment used in comparable areas of the Great Lakes, and When surveys of drinking water providers confirm that there are no statistically significant taste and odour problems.

Not impaired (2010)

#10 Beach Closings

..will be considered not impaired when the frequency of beach closures due to elevated counts of E. coli in the Detroit River (White Sands Conservation Area and McKee Park) does not exceed the frequency at upstream (Sandpoint) and downstream (Holiday) reference beaches.

(2014)

#11 Degradation of Aesthetics

..will be considered not impaired when the waters are devoid of substances at levels that produce persistent objectionable deposits, colours, turbidity, and/or odour.

(2014)

#12 Added Costs to Agriculture or Industry

…will be considered not impaired when there are no significant additional costs required to use raw Detroit River water for agricultural and industrial purposes.

(2010)

#13 Degradation of Phytoplankton and Zooplankton Populations

..will be considered not impaired when the composition and relative abundance of phytoplankton and zooplankton of the Detroit River reflect that of Lake Huron, and therefore represent primarily oligotrophic/mesotrophic conditions.

Requires Further Assessment

#14 Loss of Fish and Wildlife Habitat

..will be considered not impaired when

Coastal wetlands: Protect existing coastal wetland habitat and restore wetland function in priority areas of the AOC and its watershed (as identified in the 2007 Detroit River AOC Canadian Priority Habitat Sites and the 2013 Essex Region Natural Heritage System Strategy.

Aquatic & riparian habitat: Protect existing fish and aquatic wildlife habitat (deep water, coastal, nearshore) and restore ecosystem function of these priority areas in, and hydrologically connected to, the Detroit River.

Terrestrial habitat: Protect existing natural terrestrial corridors and restore ecosystem function between the Detroit River and the Ojibway Prairie Complex, the LaSalle Candidate Natural Heritage sites, and other major identified habitat sites (as identified in the 2007 Detroit River AOC Canadian Priority Habitat Sites, the 2013 Essex Region Natural Heritage System Strategy, and other fish and wildlife habitat assessments.

Impaired