TD Tree Days 2018
Gina Pannunzio, Kelly Laforest, Claire Sanders and Ian Naisbitt
On Saturday, 20 October, TD Bank sponsored their TD Tree Day program by inviting our Windsor-Essex community to help TD employees plant trees. Groups that participated included: City of Windsor, Detroit River Canadian Cleanup, Essex Region Conservation Authority, Essex County Nature – Little River Enhancement Group, TD Friends of the Environment Foundation and Caesars Windsor – CodeGreen.
The planting site is located in the Detroit River Watershed in East Windsor's Little River Corridor Park, west of Florence Avenue and north of McHugh Street. This natural area is the same site that our community has planted to celebrate numerous Earth Days.
We enjoyed a typical and pleasurable Autumn day: a mix of sun and cloud, mostly cloudy, temperature in the morning of 8 Celsius increasing to 12 C by 11 a.m. There was a calm breeze of 30 km/ hour and the UV index was 3 or moderate. All of this created a pleasant planting experience for the 70 eager tree planters.
Field of Volunteers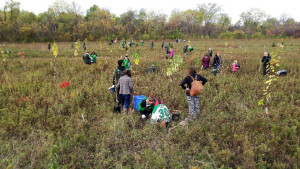 Children, their parents and other community volunteers participated by digging holes; planting, wrapping and mulching 300 trees! We started planting at 9:00 a.m. and the job was completed at 11:15, what an effective group!
Once the volunteers walked into the field, hundreds of grasshoppers took flight. A little later on a gaggle of Canada Goose flew overhead, but they were flying in a northern direction, their inner compass must be spinning? A solitary Monarch Butterfly was checking out the purple New England asters in the area, it too was flying in the northern direction. Maybe they were looking for cover since they knew a thunderstorm was on its way? The heavy afternoon rain will be a great help to settle the soil around the newly planted trees.
 The species of trees that we planted included: Burr Oak, Swamp White Oak, American Elm, Red Oak, Basswood, Hackberry, Freeman Maple and American Sycamore. About 80% of the trees that we have planted at this site over the years survived and their leaves are providing fall colours for us to enjoy.
Bur Oak Leaves Broadcasting the Autumn Season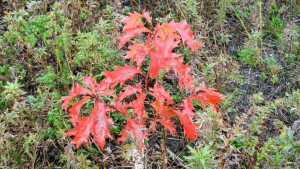 Essex County Nature – Little River Enhancement Group would like to thank TD Bank, Essex Region Conservation Authority and the Detroit River Canadian Cleanup for planning this well – organized community event. This TD Tree Day 2018 volunteer effort addressed the Beneficial Use Impairment, "Loss of Fish and Wildlife Habitat" of the Remedial Action Plan by improving the ecosystem health of the Detroit River Watershed.
 Today's TD Tree Day planting event brings the total number of trees and shrubs planted by community volunteers in the Little River Watershed to 42169. This is definitely a "Gain of Fish and Wildlife Habitat!"
The "Old Channel" of Little River North of McHugh Street: Fish and Wildlife Habitat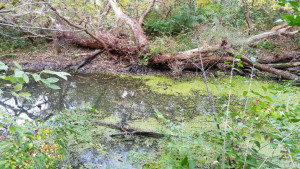 TD Tree Days 2018 Photo Gallery