Forests Ontario 2017 – Community Tree Plant – Windsor
Paul Giroux, Gina Pannunzio and Ian Naisbitt
On Saturday, 6 May, the Windsor-Essex community celebrated the "Community Tree Plant" event with Forests Ontario. Essex County Nature was invited to participate by Paul Giroux, City of Windsor Forester.
Along with Forests Ontario and the City of Windsor, the partnership included: TD Friends of the Environment Foundation, Ontario Wood and the Essex Region Conservation Authority.
This is the fifth year in a row our group has supported the Forests Ontario initiative; the planting sites have been located in the Little River Watershed in East Windsor. Tranby Park was planted last year and we returned this year to further expand the woodland in the park. However, we needed to replace some of the trees that died in last summer's drought conditions. The woodland in Tranby Park is on the edge of the Little River Watershed boundary. Consequently, the Little River Enhancement Group will include the trees planted today, 170, in our watershed total of 39085.
Mother Nature has been giving us a severe weather-beating lately; the forecast for Saturday was gruesome: pelting rain, cool temp of 6 C, winds of 30 km/ h – gusting to 50 km/ h, which meant a wind chill factor as well. We were not happy with the forecast, but we had a bunch of trees to put into the ground. Thankfully, we woke up Saturday morning to find the sun shining! What a wonderful change: it turned out to be 7 C at 9 a.m. and rose to 11 C by noon, quite balmy for us lately; blustery wind for sure, but no rain! Whew, thank you Mother Nature.
Over 30 hardy community volunteers (children, parents and grandparents) participated by digging holes; planting and mulching the trees! Volunteers worked from 10 a.m. to 12:30 p.m. The ground was saturated and the Brookston Clay was as sticky as toffee! That made the digging and placing the clay back into the hole a challenge. There will be no need to water these trees for awhile, some of the holes looked like buckets filled with water! The species of trees that we planted included: Burr Oak, Swamp White Oak, American Elm, Basswood, Pin Oak, Freeman's Maple and American Sycamore.
Plans are in place for Forests Ontario to return to Tranby Park for future Forests Ontario "Community Tree Plant" celebrations. We look forward to receiving our invitation next year to expand the woodland further into Tranby Park.
ABOUT FORESTS ONTARIO Forests Ontario is the voice for our forests. Working to promote a future of healthy forests sustaining healthy people, Forests Ontario is committed to the re-greening of Ontario through tree planting efforts on rural lands and in urban areas, as well as the renewal and stewardship of Ontario's forests through restoration, education and awareness. Visit www.forestsontario.ca or follow us @Forests_Ontario.
 Some of the Robust Volunteers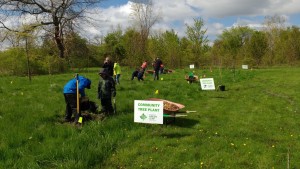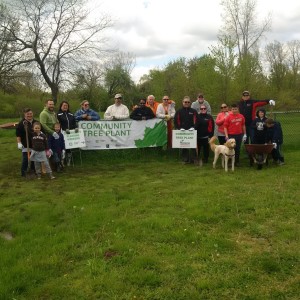 "The true meaning of life is to plant trees under whose shade you do not expect to sit." NELSON HENDERSON
Event report written by Ian Naisbitt, the Chair of Little River Enhancement Group and the Education and Public Involvement Group with the DRCC.