Celebrate World Rivers Day on Peche Island!
Join us on Saturday, September 23rd from 10am – 3pm for Peche Island Day! In celebration of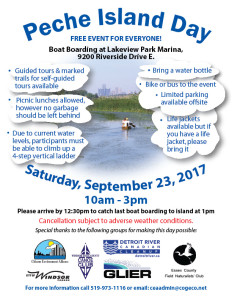 World Rivers Day, the Detroit River Canadian Cleanup (DRCC), in partnership with the City of Windsor, the Citizens Environment Alliance, the Windsor-Essex County Canoe Club, the Great Lakes Institute of Environmental Research (GLIER) at the University of Windsor, and the Essex County Field Naturalists' Club, is inviting you to visit this spectacular City of Windsor park in the middle of the Detroit River. The event offers free transportation from Lakeview Park Marina to Peche Island by boat or Montreal canoe. While on the island, guests are invited to enjoy self-guided tours, see the historical Hiram Walker summer house ruins, 175 year old native trees and lush wetlands.
"Peche Island Day is about providing access to this beautiful gem in the Detroit River, which is only accessible by boat" said Claire Sanders, the Remedial Action Plan Coordinator for the Detroit River Canadian Cleanup. "The historical, cultural and natural heritage of the Island are a definite draw and the event also allows us to show participants some of the successful results of the river cleanup efforts."
Event participants can also help install a new Bald Eagle platform! Bald Eagles nested on the island for 4 years until the tree became unsuitable several years ago. By providing an adequate platform and nesting material, the City of Windsor and DRCC hope to bring eagles back to the island. Starting in the 1950s, Bald Eagle numbers in the Great Lakes began to decline because of widespread use of pesticides, like DDT, and other factors. In the last 20 years, researchers have seen a tremendous recovery in Bald Eagle population and other wildlife, such as Lake Sturgeon, beaver, and Lake Whitefish in the river, which indicates an overall improvement in water quality and ecosystem health.
This free event is open to all members of the public, but space is limited and will be on a first-come first-serve basis. The last boat will depart the mainland at 1:00pm but we expect increased interest in the event and potentially long lines. Boats will depart and return to Lakeview Park Marina (9200 Riverside Drive East – at the foot of Riverdale). Due to limited onsite parking, guests are encouraged to bike to the marina, carpool and/or use public transit. Cancellation of the event is subject to adverse weather conditions.